One Stroke Classes : Class 2
Building Up Your Confidence.

Following on from Class 1, Class 2 is all about
building up your confidence.
The second class concentrates on extending your one stroke painting ability. New techniques are introduced and you will begin to plan and develop floral compositions.
Class 2 will show you how to paint :
Heart Shaped Leaves
Wisteria
Stocks
Daisies
Trailing Flowers
Five Petal Leaves
Floral Compositions
Towards the end of the class you will be able to complete your own project :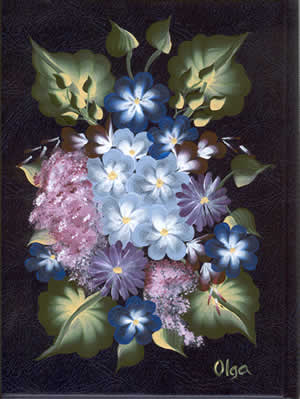 At the end of the class you will take away your finished project together with Tips and Fact sheet.
Class Duration : 2.5 hours
Prerequisites : Completion of Class 1
Cost : £30.00
You can register for Class 2 by contacting Olga by clicking here now.