One Stroke Classes
One stroke classes - the quickest and easiest way to learn one stroke painting
Taking you from complete beginner to confident One Stroke Artist.
Without doubt one stroke painting is one of the easiest, quickest and cheapest decorative painting crafts to master. But your success is only as good as the one stroke tutor who teaches you.
Olga is both professional teacher and One Stroke Certified Instructor (OSCI) ensuring your learning how to do one stroke painting is in the best possible hands. Add to this the fact that Olga has experience of applying one stroke painting techniques and designs to a wide variety of surfaces (please see Olga's Portfolio) and you will appreciate the depth of knowledge she is able and willing to share with you.
Using her considerable teaching and decorative painting experience, Olga has put together a unique course of classes which will provide you with the skills and knowledge necessary to become a One Stroke Artist.
A full course of just 3 individual classes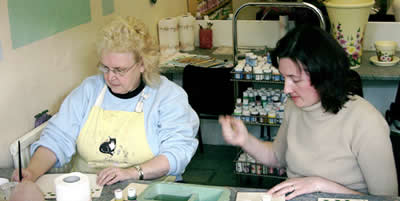 The course consists of just 3 classes of individual tuition. Starting with the essential basics of one stroke painting and progressively building up to the painting of a variety of flowers and floral arrangements.
For those wishing to advance even further, Olga has added a forth, optional, class covering the one stroke painting of fruits.
Using 1-2-1 tuition, Olga is able to provide the dedicated and individual guidance needed to master the one stroke painting technique as quickly and easily as possible. Individual tuition not only ensures complete flexibility and individual attention but also guarantees that each class progresses at just the right pace.
So no matter if you are complete beginner or you are experienced in another form of painting, each class is carefully designed to ensure you will receive the necessary skills and knowledge to become a confident One Stroke Artist.
Individual, yet affordable tuition
Although Olga provides expert tuition on an individual basis, you will find the cost of classes very affordable.
Each class costs just £30.00 and includes the use of paints, brushes, mediums, etc. This cost also includes prepared surfaces to paint on, so all you need bring to each class is yourself!
Classes last approximately 2 hours 30 minutes and may be taken one at a time or in groups of 2 classes over a full day. For those travelling from afar, it is possible to take the full course of classes over a weekend.
To find out a little more about what each class covers just click on a link below -
Alternatively, you can contact Olga to book a class by clicking here now.