Demonstrations
If you want to raise interest there is no better way than by arranging a One Stroke Painting Demonstration.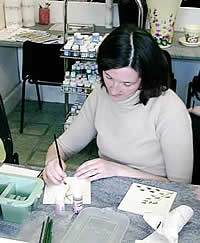 If you own a craft related business and want to raise your customer interest and awareness or if you are the organiser of a local charity or club and want to arrange something interesting for your members, a one stroke painting demonstration is the ideal solution.
As well as teaching one stroke painting, Olga is happy to come along and demonstrate this wonderful creative painting technique -
Non-Commercial Demonstrations
If your group, club or organisation is non-profit making and you are looking for a guest speaker or event to educate or entertain your members then Olga will be happy to come along and spend time showing them the one stroke painting technique, talk about one stroke painting, etc.
If your group has a particular interest, then in may be possible to 'theme' the demonstration to fit in with your needs. Thereby making the demonstration even more relevant and interesting for your members.
Commercial Demonstrations
If you are looking for a one stroke demonstration to promote your business or commercial organisation - perhaps you have a craft or hobby shop and wish a demonstration to raise customer interest or promote the sale of painting materials, then Olga is happy to talk with you about how best she can meet your requirements.
Fees
There is no charge for non-commercial one stroke painting demonstrations. All Olga asks for is a contribution to her traveling and subsistence costs if appropriate.
There is a minimum £30 charge for commercial demonstrations lasting up to 3 hours plus 25p per mile traveling plus any other relevant traveling, subsistence and miscellaneous expenses. For commercial demonstrations lasting more than 3 hours there is an additional charge of £10 per hour.
How to arrange a one stroke demonstration
Anyone interested in arranging a one stroke painting demonstration should contact Olga by clicking here now.