One Stroke Painting Projects : Project 4
Project 4 : Card Making Ideas

You may use One Stroke Painting together with card making to create some superb greetings cards.
Materials Required :
20cm x 15cm Card
Coloured Paper (Cream, Burnt Umber)
Paper with weathered, time-worn effect
Red Ribbon for bow
Happy Birthday Peel-off
Gold Dot Peel-offs
Sticky Dots
Brushes :
#12 Flat Brush
#10 Flat Brush
Acrylic Paints / Mediums :
Americana: Deep Burgundy
Folk Art: Skin Tone
Folk Art: Sunflower
Folk Art: Burnt Umber
Folk Art: Floating Medium
Double load the #12 Flat Brush with Burnt Umber and Sunflower. Begin and end on the chisel edge, pivoting the stroke to form a 'C' shape. Build the flower petals one at a time. Dot the centre with Burnt Umber using the tip of the brush. Follow the same steps to paint smaller flowers using the #10 Flat Brush.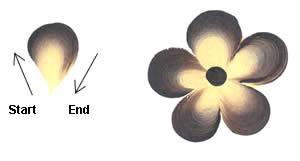 Double load the #12 Flat Brush with Deep Burgundy and Skin Tone. Pick up some Floating Medium and work it in. Start painting on a chisel edge, push down on the bristles and wiggle in and out as you pivot on the Skin Tone edge. Finish on the chisel edge. Draw in the stem.

For a 3D effect, cut out individual leaves and layer them on the card using Sticky Dots.
Add your greeting and several gold dots.
Finish with a ribbon bow.