Olga's Portfolio
Pretty Plant Pots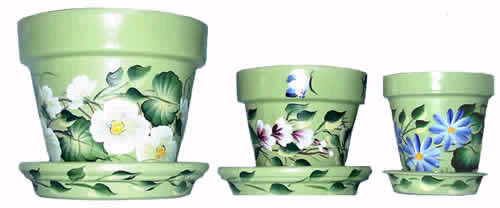 These are just a small example of how one stroke can turn ordinary Terracotta Pots into beautiful decorative items -
Click the image for a larger photo
They are idea for indoor plants - just imagine how beautiful they would look in your home or conservatory? Or turn them upside down and use them as candle holders - use your imagination and the possibilities are endless!
Once I had gained experience and confidence with small pots I progressed to something a little larger -
Click the image for a larger photo
These large planters are unusual, decorative and make the perfect gift for weddings, birthdays, anniversaries or just to say a special 'Thank You' to someone you love.
To take things a little further you can even one-stroke matching sets like this -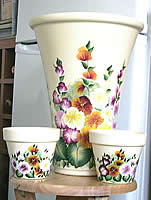 Click the image for a larger photo

That's the beauty of one stroke painting. You can begin with a simple idea and with just a little imagination you can produce something unusual, decorative and truly beautiful. It really is the perfect creative craft.

If you would like to know more about one stroke painting classes or one stroke painting in general then you will find details on this web site. Alternatively you can contact Olga by clicking here now.

Click below to select another portfolio category