Olga's Portfolio
Wonderful Woods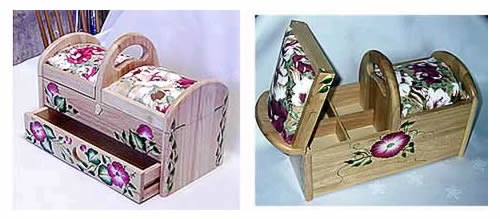 To my mind nothing beats the wonder of wood. Its a truly wonderful material to work with. You can apply one stroke to natural wood and it looks great just like the sewing boxes above.
Alternatively, you can pre-coat and then apply your one stroke design on top. This is what I did with these trays and trivets -
Click the image for a larger photo
Whichever way you work, finish off with a few coats of non-yellowing spray varnish and you will end up with the most beautiful wooden objects for a fraction of the price they would cost you to buy in the shops.
Once you gain confidence you can progress onto bigger projects like this stool -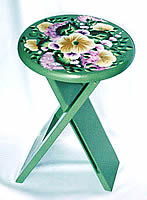 Click the image for a larger photo

After painting this I just fell in love with it. It now has pride of place in my home - not as a functional piece of furniture but as a beautiful decorative item in its own right.

Imagine being a child again. Wouldn't it be a wonderful addition to a your room? It could be used to give pride of place to your favourite toy or doll.

If you would like to know more about one stroke painting classes or one stroke painting in general then you will find details on this web site. Alternatively you can contact Olga by clicking here now.

Click below to select another portfolio category