Olga's Portfolio
Pottery Panacea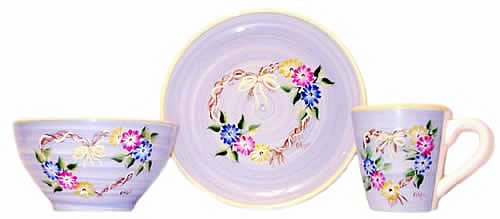 One stroke on pottery is just magical!
I use special porcelain paints that can be baked in the oven. This not only makes the finished painting shine but also makes the item durable - you can even wash them in a dishwasher.
Click an image for a larger photo
The wonderful thing about one stroke is that you can produce these decorative items very quickly - much quicker than using traditional creative painting techniques. This makes them ideal for resale. Just buy your pottery items from your local store, add a few decorative touches and you have a beautiful piece of pottery art.
Decorative pottery is an ideal gift - either as individual items like a cup or plate or make up your own individual sets for 1, 2 or more persons -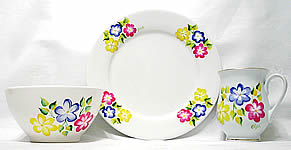 If you would like to know more about one stroke painting classes or one stroke painting in general then you will find details on this web site. Alternatively you can contact Olga by clicking here now.

Click below to select another portfolio category